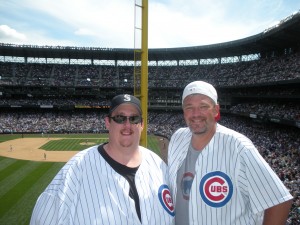 [1]
Today was what I have been looking to as the official kick off to my Summer of Baseball 2010!  It couldn't have been a better day today!  The sun was shining and it was freakin' hot… I LOVED IT!
I started my day off by picking up Doug in Tacoma and we headed towards The Safe to meet up with Bob DeVries across the street at the Pyramid Ale House.  With my back still hurting from a couple weeks ago, as we got into town and started looking for parking I had to opt for a $35 spot as close as I could to the ballpark.  $35 to park, while $15 cheaper than Opening Day, is still highway robbery!  But, like I said, cause of my back I really didn't have much choice in the matter this time.
Doug and I got lucky and were able to get a couple spots on stools in the bar at the Pyramid, as the place was quickly filling up with about 90 minutes or so to go before game time, so we ordered up some nacho's and a pitcher of their newest IPA called "Grifter".  I gotta say that it was awesome!
Bob DeVries is amid his second straight year of going to a game at all 30 Major League Ballparks in a season.  Seattle is stop # 19 for him this year and I am so glad that after having spent time talking on the phone, via email or texting back and forth as he made his ballpark chase last summer, that I would finally be able to not only meet the man, but attend a game with him during his Quest.  Last year Bob did his Quest as a way to regain his life after his wife passed away suddenly from SADS (Sudden Arrhythmia Death Syndromes) on September 10, 2008.  This year he was doing it to bring awareness to SADS.  I fully admit that I have never heard of SADS until I met Bob online last year and I think what he is doing is just simply amazing.  For all of you that read this, if you would, please donate a little something to the "Shawn M. DeVries Memorial Fund" [2], you'll be glad you did.
Bob had texted me a few times over the morning to let me know that his flight was delayed leaving Denver and now wouldn't be into Seattle until 10:30am.  As I was driving to Tacoma to pick up Doug, I got another text saying it would now be 11am before he landed, which meant that he wouldn't be into downtown until roughly Noon.  Despite having trouble finding parking and luckily getting one of the last $40 spots available, Bob, wearing his #10 "Every Park" Cubs jersey, walked into the pyramid just a little after Noon and joined us for a much needed beer!  It was great finally meeting him and hanging out for a bit, but we had to go find a high school friend of his, Joe,  who was meeting us at the game with his kids and get to the game.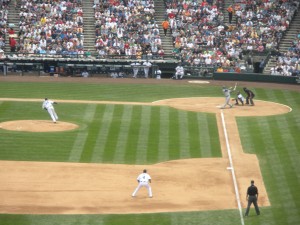 [3]The game was awesome.   King Felix vs Ted Lilly.  The Cubs jumped out front first with 1 run in the 2nd, before the M's tied it up in the 4th.  In the 7th each team got a run and there we sat tied at 2-2 until the top of the 13th inning when Marlon Byrd singled to score Alfonso Soriano with the winning run, 3-2 Cubs.  This was the longest game I had ever been at in terms of innings (13) and time (4:02).  While my wife would have had a cow having been there that long, I was loving every moment of it.  Not only was it the Mariners vs Cubs, but I was sitting in the left field bleachers between Bob DeVries and Doug Miller, 2 guys that really know their stuff when it comes to baseball, the sun was shinning, my arms were burning… it was an amazing day!
After the game Bob, Doug and I made our way over to Jimmy's on First for dinner and a couple beers before calling it a night.  Was really great getting to just sit there and talk with Bob about his adventures and just be able to take it all in.  I had so much fun getting to be a part of his Quest, even if it was only for a few hours.  We parted at the corner of 1st and Edgar Martinez Drive, just outside the Home Plate entrance to Safeco Field and as Doug and I waited for the light to turn green at the cross walk,  we watched Bob walking up the street until his #10 "Every Park" Cubs jersey faded away as he headed to yet another ballpark to continue his Quest…
The "Summer of Ken" continues July 11th as my brother and I will join the World Record holder Doug Booth for a game at Safeco Field as the Mariners take on the boys from the Bronx.  Looking forward to it.