Minneapolis Bound…
We landed in Milwaukee just over 20 minutes early!  Man that's awesome!  That means once I get off the plane, I can get to Budget's counter, see what Fastbreak stall my car is in and get on the road… EARLY!  This will really help me out.  As I made the long walk to the rental counter, it was only long because, yet again, my gate was the very last one on the concourse, I started thinking about the long drive ahead of me.  It's just over 5 hours from the Milwaukee airport to the Mall of America.  I plan on parking at the Mall of America since it's free to do so and just ride the Hiawatha Light Rail train in to Target Field.  It's a 40 minute ride, but its only $1.75 each way, so why not?
As I get to the Budget counter, there is no signs of anything mentioning Fastbreak, so I go outside and there is nobody at their booth and no signs there of anything Fastbreak related.  I finally see a lady walking around the cars that looks like she works there and I ask her.  She tells me I have to wait for the counter to open first and lets me know that it wont open until 7am!!  ARE YOU FREAKIN' KIDDING ME?!?  After a couple calls to Budget's 800#, what I found out is that the rental companies at General Mitchell International do not staff anyone 24 hours, like most airports do.  As such, you have to wait for the counter to open.  That means from that point I had to wait 1 hour and 20 minutes!  So much for getting in early, instead of that being a big plus for me, it now just means I have that much longer to wait!  I was livid!
I finally got my car and was on the road headed out of the airport at 7:04am.  At that point my GPS was telling me that at best I would get to the Mall of America by 12:12pm.  With a 40 minute train ride, as long as I was on the 12:20pm train, I would get to the park by 1pm, 10 minutes before 1st pitch.  That WASN'T gonna work.  With just over 346 miles to drive I knew that I was going to have to make at least 1 stop to get gas.  My plan at this point was to text my wife and have her get me the address of a park and ride lot on the Hiawatha line that was closer to Target Field.  I would  then try to make it only 1 stop and do some creative driving, as Mike calls it, and get there ASAP.
When I heard from my wife, I was about 30 minutes from where I wanted to stop.  She got me the address for the "Midtown/Lake Street" park and ride and I was good to go.  I wanted to stop at the Black River Falls Oasis in Black River Falls, WI.  The 2 previous times I had drive through here, the first being a few days after 9/11, I have stopped there.  Call me a creature of habit, or a Memory Lane kinda guy, but I wanted to stop there and see the orange moose and big mouse.  I took a couple pix as I pulled in and then I gassed up, went in used the facilities, grabbed a 6inch turkey sub from Subway, a coke (hoping the caffeine would help me as I still had about 170+ miles to drive) and I got back in the car and headed out.  As I got back in the highway the GPS was telling me that I would now arrive at the Mall of America at 12:23pm at best.  Since I had gained 6 minutes on the first part of the drive, that means I lost 17 minutes there.  I KNOW I wasn't at that stop for more than 10 minutes, so I have no idea how its possible that the GPS says I lost that much time.  No matter, it was now time to make back as much time as I could and I reset the GPS to take me to the Midtown park and ride.
The second half of the drive was a tough one.  There isn't much out there to keep you awake and since I only have 1 power port in my car, which I had to have the GPS plugged into, I was unable to plug in my satellite radio so I had to keep scanning the local channels hoping for something decent.  I had actually got pretty lucky as I found a few really good Country stations that played some great classics, including several from George Strait's early years like "Maria Del Rey", "Unwound" and "Amarillo By Morning".  At one point I came across a station playing "I Can Only Imagine" by Mercy Me.  I have a love/hate relationship with this song.  It's an amazing tune and it reminds me of my trip with my nephew Sean back in 2003 when he introduced me to it.  But it also reminds me of my Mom, as it was played at her funeral on December 12, 2008.  So naturally as I was singing along, I was also crying my eyes out.  I am not afraid to admit that cause of 2 things: 1) I was freakin' tired! and 2) being out on the road, by yourself, especially when you're tired like that, your mind plays with you.  If you have never been there, you wont understand it.   I always say that I LOVE being out on the open road and I do, there is no doubt of that.  I would much rather drive cross-country than fly, yet there are those moments.  This was one of them.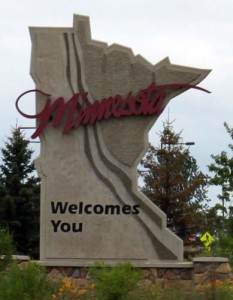 As I neared the Minnesota state line the adrenaline started kicking in.  At that point I knew I wasn't much further, about 23 miles.  I had gained another 3 minutes at this point and should make it to the Park & Ride by about 12:20pm, depending on traffic.  I got a call from Bob (Mason) as I neared Minneapolis and we talked for a bit cause traffic had slowed down just by my exit.  I was 3 miles from my destination and traffic was at a stand still.  I finally made it and was parked right at 12:30pm.  I got out, headed to the train station, met some really nice people who weren't sure how to use the machine to buy tickets and didn't want to slow me down so were gonna have me go ahead of them.  I laughed and told them, "To be honest, this is my first time, so I was kinda looking over your shoulder to see how to do it".  We laughed about it and he tried it again and we learned together.  It was their first time going to Target Field and I explained that it was mine also and gave them one of my cards. The "small world" moment for the day came when the lady, I cant recall their names (Sorry!), said after reading my card, "Oh, I know where Lacey is, I have a friend in Olympia and we have been through there a few times!" What are the odds of that?
After we got our tickets we headed up to ride the train.  We had to wait a few minutes but no biggie since there was a huge escalator or stairs, I took the stairs (which was good for me, but honestly, I only did it cause the elevator was shut down) because I don't do big escalators, so it was nice to catch my breath.
I met a few people on the train that asked me if I had ever been to Target Field before and I said I hadn't and neither had they.  Everyone that I have met so was going to a game at Target Field for their first time.  I guess it shouldn't have surprised me since its only been open since April 12th and they sell out routinely now, but it did.  The train ride was cool.  It takes you right into downtown, past the Metrodome (which was all decorated with Minnesota Viking stuff) and right to the corner of Target Field.  Pretty cool!  I suggest anyone that's coming here to do this (getting on the train after the game is another story coming up later).
It was just after 1pm when we got there so I had only a couple minutes to get to agate and get in before 1st pitch so I rushed in… and I MADE IT!  Take that Budget and your Not-So-Fastbreak!  Where I came in at was down the 3rd Base line in the outfield.  I spent the entire game walking around the park, on the main concourse, checking out the game from various vantage points.  I will review Target Field in detail after my 2nd game there on Monday.
The game itself, White Sox vs Twins (Garcia vs Blackburn) started off good enough.  The Twins jumped to a 2-0 lead fairly early, but it didn't hold up and just before he was pulled Blackburn got scorched for 6 runs, 6-3 White Sox.  That's where it stayed until the bottom of the 9th.  At that point I was standing just above the bullpen talking with this nice couple.  He has season tickets and told me about coming in last October for the season ticket holders day and getting to walk around and check the park out from all angles with only about 1000 people here.  They were also playing Twins game "#163" on the big screen and he told me how awesome that was to sit here and watch that.  We talked about my journey to see all 30 parks and he asked if I was following the the Twins or White Sox and I said "Neither.  Just hoping for a good game".   We both agreed that thanks to Blackburn, that was probably not gonna happen.  This was his wife's first game at Target Field.  The White Sox had brought in their closer, Bobby Jenks, after a lights out 1,2,3 8th by J.J. Putz.  Jenks started off walking the first 2 batters.  He wasn't even close to the strike zone.  The next 2 singled, its now 6-5, with runners at the corners and no outs.  I thought that brought up Jim Thome, but forgot he had been pinch run for in the 7th.  I was hoping to see him beat his former team.  His replacement, Reneko, walked to load the bases.  Once I saw that Thome was out, I called Delmon young to win it.  Win it he did.  He laced a single the deep centerfield, 1 run was in, and when Rios bobbled the ball, the winning run came in!  The Twins scored 4 in the bottom of the 9th, with no outs, to win 7-6.  What an awesome finish and I got just what I hoped for, a great game.
After the game I headed back to the train, me and several thousand of my closest friends that is.  After being herded like cattle, it took just over 30 minutes to get on the train.  It probably wouldn't have been so bad, had it not been freakin' hot and we were standing directly in the sun.   After that and the 16+ minute ride back to the park & ride, I still think it's the only way to go.  I just hope I can get on a train faster tomorrow night to make my get away and start my 5+ hour drive back to Milwaukee.
For dinner I had decided I wanted to partake in something that is very Minneapolis.  If you ever watch the Travel Channel or Food Network (which is porn for fat people like me) you have heard about the "Ju(i)cy Lucy".  There are 2 places in town, Matt's Bar and The 5-8 Club that have made these famous and they fight back and forth on who's is the best.  I spelled it with the (i) because Matt's bar says it's a "Jucy Lucy" and the 5-8 Club says it's a "Juicy Lucy", so they can't even agree on spelling.  Each claim to be the original.  I knew I wanted to go to one of these places so I plugged Matt's Bar's addy in my GPS and I was only 1 mile from it, so Matt's is where I was eating dinner tonight.
I pulled up and was surprised not to see a ton of cars around the place as I was able to park right up front.  As I got out of my car the aroma of what I was about to experience hit me in the face!  As I got to the front door and walked in, I was met at the inner door by a long line of people waiting to get into an already packed place.  I was shocked.  No biggie cause according to the guy behind me, "It's always like this, should only take 10-15 minutes to get a seat".  He would have been right, however, since they were that busy and I was there alone, I didn't want to take a 4 top table to just myself, so I waited for a counter seat…. And I waited…. And I waited… and I waited.  I passed up several tables waiting.  I would have felt bad taking a table to myself when it was that busy and there was a constant line of people coming in.  At one point the waitress, she was the only one, came over and asked if she could buy me a beer as I waited.  I told she didn't have to, but she insisted and I ordered a Summit Extra Pale Ale and drank it while I waited.  Finally some stools at the bar opened up and I got me seat about 30 minutes after I got there.
As I sat down the waitress asked me, "So, have to had time to study the menu while you waited and know what you want?"  I said I did and I ordered my very first Jucy Lucy, a ½ order of fries and another beer.  Matt's Bar is a small place and what most people, myself included, would call a "Dive".  I don't say that negatively, because this place obviously has character and is very popular.  Their kitchen is tiny, only has a really small grill (everything they serve is grilled, their burgers or their grilled cheese sandwich…except for the fries) and is in plain sight right behind the counter/bar just inside the door.  I was sitting at the opposite end of the kitchen, so I was able to watch everything going on.  Because the grill is so small, and as such there is only 1 cook, it takes time to get your order.  As such I had plenty of time to have a few beers.  Matt's tells you to "Fear the cheese" and if you know what a Jucy Lucy is, you understand that.  If not, let me tell you that a Jucy Lucy is 2 burger patties put together, but with a couple slices of cheese in between.  As the burger grills, the cheese melts and it because a hot lava core.  When I got my burger I was careful not to take a big first bite.  I wanted to just pierce the core to let the cheese flow.  That didn't happen and I learned in a hurry that the cheese is indeed freakin hot!  After my first bite I was ready for more.  You have to eat it carefully, but I gotta say that this was an amazing burger!  I got it with the grilled onions, which come diced up really fine.  The burger also has pickles on it.  That's it.  You can put on ketchup or mustard if you want to, but I chose to eat it naked, with nothing else on it… and it was the right choice.  Each bite was better than the first as you make your way into the cheesey center.  But as I got about 2/3 of the way… and that's where I hit the wall!  After taking a quick breather, I finished my burger and beer and gave up my seat for someone that was standing in the still long line trying to get in.
After dinner I made my way to my hotel, the Sheraton in Bloomington, which took me right by where I will have lunch tomorrow, the 5-8 Club.  After checking in, I got to my room, turned the Cubs/Phillies game on and it didn't take me long before I was asleep cause minus the maybe 2 hours nap on the plane, I had been up and running for over 36 hours in which time I had won $ betting on the ponies, had a 3 hour flight, drove 346+ miles…. It was time to get some sleep!