I Got To See Mike Zunino's Professional Debut…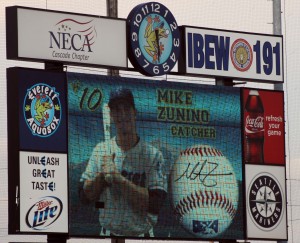 A couple days ago, yes, on Friday the 13th, I made the 13 mile drive from my house to the Everett Memorial Stadium in hopes of seeing the Dust Devils vs Aquasox game that night.  As luck would have it, after making us sit there for almost 2 hours after the rain stopped and the tarp was removed from he infield, the game was called because the field was deemed "unsafe for play."  My feelings on why they waited so long to call the game really don't matter, but I honestly feel it was a money grab.  They knew they had the people here and that the concessions were still pumping out lots of food/drinks.  As I walked out I heard them announce "We will still have fireworks at 9:15pm and the food stands and beer tent will remain open."  DUH!  Kinda makes it obvious, don't ya think?  I also heard them announce that we could exchange our ticket for any future game at any time.  I decided that since I wanted a ticket to the Saturday game, the next night, I better stand in line at the ticket booth and get mine now… just in case.  As I exchanged my ticket I was told that Saturday's game will be a doubleheader, 2 games for the price of 1.  What was supposed to be the Seattle Mariner's 2012 #1 Draft Pick's first professional game ended up being my first ever rain out after going to well over 1,000 games between MiLB & MLB.
Saturday afternoon, I headed to the ballpark around 3:15pm.  The gates didn't open until 4pm, so I had to stand in line for a while, but as always I got a free parking spot and that made it worth it.  Shortly after the gates opened, I entered the General Admission section down the 3rd baseline and took my "usual" seat, section 6, row 4, seat 1. Somewhere close to 4:30pm, I headed over under the grandstands to where they post the line ups for the current game.  As I made my walk that way I saw people running to a spot behind me.  When I looked back, sure enough, there was Golden Spikes Award winner Mike Zunino, signing autographs.  I took my time walking over there and when I got there he looked up, said Hi and I asked if he would be so kind to sign my scorecard for me.  I welcomed him to Everett, wished him good luck and a great time while he was here and told him I look forward to following his career.  As he thanked me he reached out with his huge hand to shake mine and that sucker engulfed my hand!  Nice kid…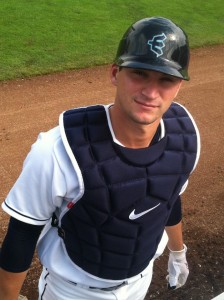 After filling out the rest of my scorecard, I headed back to my seat to watch the game.  Before long they announced the starters, who were all joined on field by a local little league player, the National Anthem was sung and it was time to play ball!  Game time was 5:05pm for game # 1 of the doubleheader and I was a bit surprised to see there was hardly anyone there.  Of course this was a makeup game, where your Saturday ticket got you in for both the makeup and regularly scheduled game.  However, considering what was gonna happen today, it really surprises me that more people weren't there to see it.  No matter how many people were there, just before the National Anthem, future MLB star, Mike Zunino took his spot behind the plate.  As he got there he reached out that big right hand of his to shake hands with both umpires working today's game and he was there, crouched down in position, as the very 1st pitch was thrown in his very 1st game as a professional baseball player.  The thoughts and emotions that much have been running through his head.  My guess a lot of it was relief, just glad to finally be playing the game that he loves, especially after last nights rain out.
Zunino's 1st professional AB took place as he came up 2nd in the bottom of the 2nd inning.  After watching 3 straight pitches nowhere near the plate go by him, he was green lighted on the 3-0 count and he took a pitch that was low, but drove it down the line past the 1st baseman and into the corner and when it was all said and done, he was standing on 2nd base with a double as his 1st hit of his professional career.  He would later score his 1st run ever as well as the Aquasox 1st run of the night.  His next AB was in the 3rd inning, he drew a walk and for the 2nd time in 2 innings, he scored.  His final AB of the night would come in the 5th inning where he grounded out to short.  He only managed 3 AB's in this shorted 7 inning make up game, going 1-2, with a 2B, BB and 2 runs scored.  Not to shabby for your 1st professional game as he helped the Aquasox win 6-3.
Between games we were told the 2nd game would start at 7:50pm and we were entertained by Roberto The Magnificent, who did several things like juggling flaming batons.  When it came time to announce the starting lineups, I was a bit disappointed to see that Mike Zunino was not playing in game # 2.  However, it was still baseball so I stayed for the game and watched as the Aquasox swept the shortened doubleheader, winning the late game 5-1.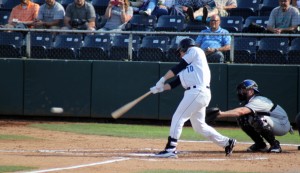 As I walked out of the park, I found myself right behind Mike Zunino, who looked up at me and said "Hey".  I shook his hand again, congratulated him on his 1st professional game and we talked for a few about the game as we walked towards the gates that allowed him to get to the locker room and me to the parking lot where I parked my car.  Along the way several people ask him for autographs.  At one point, at the top of the stairs, he got stuck there and asked people if they would let him out so I could get by and out.  I told him not to worry about it, no rush, as I was enjoying watching him interact with people and knowing good and well when he makes it big in the Major Leagues, I will be able to talk about that moment 🙂
As I walked out of the stadium and out to my car, I couldn't help but wonder how much longer he will be a member of the Class A Everett Aquasox.  I can't imagine it will be too much longer, but am hoping he will be around for their next home stand, July 24-29th, so I can ask him to sign the great picture I took of him getting his 1st professional hit…

Here are a few of my pictures from Mike Zunino's 1st professional baseball game: