2006 Road Trip – Day # 3 (Game #2)
I got to sleep in today, which was nice.  Was strange to be sitting in my hotel at 10:30am since the last couple days I had already been on the road for 6-7 hour at that point. But then I realized that I had a ballgame in 90 minutes and I had to get ready still 🙂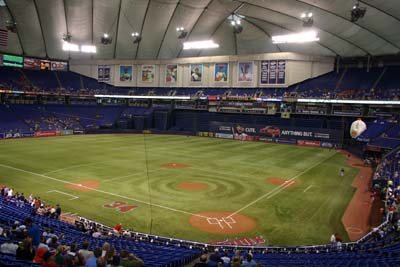 I got to the Metrodome, got parked, and headed in to go see the World Series trophies from 1987 & 1991 which are on display at the Twins office.  It was quite cool to get to see them.  I have now see the 1987, 1991, 2001 (D'Backs), and 2002 (Angels) World Series Trophies.  Along with the trophies they had on display the AL Champions tropies and a World Series ring.  Is quite nice that they allow the fans to get to see those things up close like that.  As I was walking around the concourse I heard someone saying my name, "Ken…. Ken!"  As much as I travel I have gotten used to just ignoring it, cause what are the odds its for me, ya know?  Well, this time it was for me!  It was Barb, the usher from yesterday.  She saw me coming and wanted to ask me how I was doing.  I talked to her for a while and she told me about a couple and their son she met today that just got into town from Seattle for the game.  Small world!
I once again sat in one the football media booths.  Today I was further towards center, which was great cause it was more straight away and I could see the movement on the pitches better that way.  The game was good, it ended up 3-2 in the Indians favor.  Paul Byrd pitched a good game and went the distance.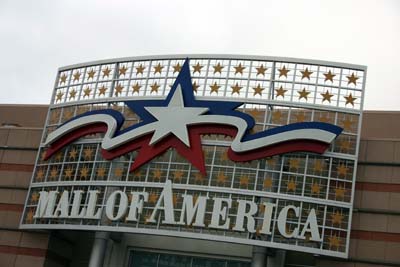 After the game, I thanked Keith, another usher from yesterday, for all thehelp he gave me the last 2 days.  Wanted to let him know I appreciated it and that it was above and beyond!  As I headed out the concourse quickly came to a standstill.  What you need to know about the Metrodome, if you dont already, is that the roof of the dome is not a solid structure (say like wood or concrete) it is a material that is held in place by the air pressure inside the dome.  So when you come in and go out you have to go through circular doors and it takes time to get people through those evidently.  As I came in today I had to go through the hadicapped entrance and its basically an air lock.  You open the first door and wait for it to close before you open the next one.  The reason you wait is cause if you didnt, the air pressure from inside the dome would cause a windtunnel effect.  Well, as we were heading out, they opened one of the emergency doors to help get the people out and as I had read about it my Baseball Roadtrip guides, this was a door where you would litterally get blown out the door. I was watching guys put their hats on tighter and hold on to their things a bit tighter and then go through.  Its no joke, when you get to the door you can feel it sucking you towards it, and then blowing you out the door!  It was wicked cool!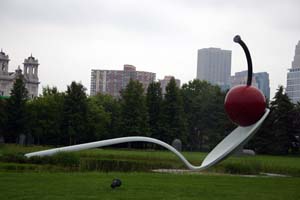 After the game I headed south to Bloomington to the Mall of America.  Yep, its a mall and yep its HUGE!  I didnt go there to go shopping, I went to see the plaque that shows where the home plate for the old Metropolitan Stadium used to be.  You can also see across the way a red seat up on the wall that marks the place where the longest HR in Met history landed.. it was hit by the great Harmon Killebrew!
After leaving the Mall of America I went to another mall… and to think I HATE going to malls.  This time, I wasnt there to shop either.  I went to the Eden Prairie Center in Eden Prairie.  This is where Kevin Smith and the crew filmed "Mallrats".  It has certainly changed over the years and its a beautiful mall. "I just love the smell of commerce in the morning"  I was disappointed to find out that I couldnt find a place to buy chocolate covered pretzels!  No stink palming for me!
As I headed back to my hotel, I stopped by the Walker Arts center to get a picture of this sculture that is a giant spoon with a cherry on it.  Its pretty cool looking.  If your ever in Minneapolis, check it out.
Minnesota Twins vs Cleveland Indians – H.H.H Metrodome
Miles Today: 41
Total Miles: 1741
New States Today: 0
Total States: 5
License Plate Game:
Total Plates: 32
Games: 1 (Indians win 3-2)
Total Games: 2
Beers: 2
Total Beers: 5
Hot Dogs: 1
Total Hot Dogs: 1


| Team | 1 | 2 | 3 | 4 | 5 | 6 | 7 | 8 | 9 | R | H | E |
| --- | --- | --- | --- | --- | --- | --- | --- | --- | --- | --- | --- | --- |
| Indians (54-66) | 0 | 2 | 1 | 0 | 0 | 0 | 0 | 0 | 0 | 3 | 8 | 1 |
| Twins (70-50) | 0 | 1 | 0 | 0 | 0 | 0 | 0 | 1 | 0 | 2 | 7 | 1 |
W: Byrd, CLEV (8-6) L: Garza, MIN (0-2)