2006 Road Trip – Day # 5 (Game # 4)
Can you say WRIGLEY FIELD?  I was on my way to Chicago and very excited about getting to see Wrigley Field again.  I had been to a game there once, back in 1999, but it rained out in the 6th inning. The next time I tried to go to a game there, well, it didn't happen.  I had a ticket for the bleachers to see the Cubs play the Reds on September 11, 2001.  Was a beautiful day in Chicago, bright blue skies and sunny… but we all know what happened that day.  So this would be my return to Wrigley and I was really looking forward to it.
I got into Chicago and headed downtown to park my car.  My plan was to park downtown, ride the L Train out to Wrigley.  From the garage I wanted to park in the Red Line station was just a few hundred yards and the red line would take me to the Addison Street Station, which is right next to Wrigley.  So this is what I did and it worked out great.  I got to Wrigley about 2 1/2 hours early, walked around a bit and got in line to get in.  Seats in the bleachers are general admission, so you got to get there early to line up, cause the Cubs fans don't mess around when it comes to getting good seats in the bleachers.  With a 12:20pm gamne time, the gates opened at 10:20am and we started filing in.
I got me a seat 2 rows down from the concourse, on the aisle, in almost straight away center, just a tad off towards right field.  I had a great view of the field and everything else, including the giant scoreboard behind me. The teams didn't take batting practice today, that was a bummer, so I sat there people watching for a couple hours.  About 30 minutes after I got there an announcement was made that all concessions were 25% off until 11:20am, excluding beer sales, so I got me an Italian sausage and and Old Style.
The game was a good one, back and forth.  Zambrano started for the Cubs and while he didn't pitch that great of a game, he did keep the Cubs in it long enough for them to take the lead.  The Cardinals tied things up in the top of the 9th and when they did, things got a little ugly in the bleachers.  I'm not talking Yankees vs Red Sox kinda ugly, but beers were being thrown and people were being escorted out.  It was actually kinda fun to watch really.  There was this one usher, Jo-Jo, that kept smiling the whole time as he was telling people to leave… Cardinal and Cub fans alike.  The Cubs got 2 runners on in the bottom of the 9th when the Cardinals decided to walk the next batter to get to Phil Nevin.  Nevin made them pay by spanking a sinlge that brought in the winning run and the 40,846 went crazy.. at least those that weren't wearing Cardinal Red!  CUBS WIN! CUBS WIN! CUBS WIN!
After the game I stood in line and got back in the El headed downtown.  This is where the one big glitch of my day took place.  When I planned on parking in that garage I knew it was close to the El station as well as an off site parking garage for the Navy Pier which had a free trolley that would pick people up there and take them to the pier.  So, I stood there waiting for an hour and it never came.  I finally gave up, got my car and drove to the pier myself and had to pay another $22 to park.  YIKES!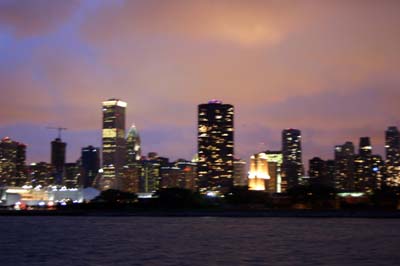 I got my tickets and headed towards my first event, the Chicago River Architectural Cruise.  I boarded the boat, got a seat, and just a couple minutes after I got there, it started to rain.  It began lightly, but people ran for what limited cover there was back by the bar, but I just sat there.  I had to wonder what I was doing when the small drops turned to bigger ones which turned into a full on downpour!  I was soaked!  But the rain was cool and it actually felt kinda nice.  It only lasted for a few minutes and then we were on our way. The guide asked us who came the furthest and after someone mentioned they were from Sacramento, CA, I said "Olympia, WA" but was beat by a couple from Astoria, OR.  A few minutes later the guide stopped what he was talking about and said "Wait a minute, what was the guy from Olympia, WA doing running for cover when it started to rain??"  He was looking for me and when he spotted me I said "I was sitting right here the whole time."  He relied, "That's right, you were, I thought that was strange." lol.  The tour itself was great.  I couldn't tell you what is art deco, or modernism or post-modernism or whatever, still cant, but it was fun to cruise on the Chicago River and hearing not only about the buildings, who designed them and so on, but also the history of Chicago.
That cruise lasted for an hour and then it was off to my next one, the Chicago Skyline cruise on lake Michigan.  This one was just as it sounded, a cruise out on the lake to view the beautiful skyline of Chicago, it was great! The 30 minute cruise took us down by the Field Museum on the south side of Chicago and up north to a great view of the Hancock building.
My next cruise was the final one of the night and was the Fireworks cruise.  It was an hour long and was pretty much like the Skyline cruise, as it went to the same places, just a little further, and we had an amazing view of the Chicago skyline all lit up, but this one also included getting to see the fireworks they have every Saturday night of the summer over Lake Michigan by the Navy Pier.  The show lasted about 15 minutes or so and was pretty good.
When I was done there, I walked back down the pier, got my car and headed to the burbs.  On my way, I stopped at a place called "Super Dawg" to get a Chicago Style hot dog, and it was really good.  Yvonne and I had seen this place on a TV show about great hot dog places around the US, so I had to try it.  I finally made it to my hotel after midnight and was ready to get some ZZZ's!
Miles Today: 117
Total Miles: 2273
New States Today: 1
Total States: 7
License Plate Game:
Total Plates: 35
Games: 1 (Cubs win 5-4)
Total Games: 4
Beers: 1
Total Beers: 10
Hot Dogs: 3
Total Hot Dogs: 5
| Team | 1 | 2 | 3 | 4 | 5 | 6 | 7 | 8 | 9 | 10 | R | H | E |
| --- | --- | --- | --- | --- | --- | --- | --- | --- | --- | --- | --- | --- | --- |
| Cardinals (65-57) | 1 | 1 | 0 | 0 | 0 | 0 | 0 | 1 | 1 | 0 | 4 | 9 | 1 |
| Cubs (53-69) | 0 | 0 | 0 | 2 | 1 | 0 | 0 | 1 | 0 | 1 | 6 | 14 | 0 |
W: Wuertz, CHI (1-0) L: Isringhausen, STL (4-6)