2006 Road Trip – Day # 6 (Game # 5)
I only had 2 things planned to do today, so I slept in a bit before heading to Wrigley Field for a 1:20pm game vs the Cardinals, the rubber match of the series.  I hit the road about 9:30am heading towards Wrigley.  I had decided to just try to park closer so I can walk around Wrigleyville.  On my way there I saw a sign that mentioned the off-site parking for Wrigley at DeVry University.  Knowing that parking around Wrigley would probably be close to $30-40, and knowing that parking at DeVry was only $6, and that included a ride on a CTA bus to and from the game, I decided to give that a try.  It was a wise choice 🙂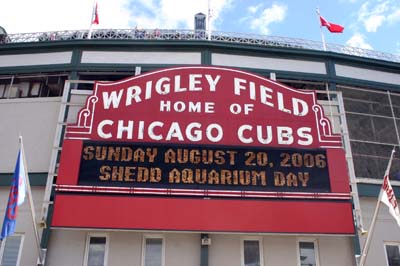 The bus ride was pleasant, no complaints at all (I highly suggest doing this your next trip to Wrigley).  The best part is that it dropped us off right by the big red Wrigley Field sign and that was awesome!  Knowing I had to get in line to get in soon since my seats were GA, I headed back towards the Bud Light Bleachers and joined the rest of the Bleacher Bums in line.  As they did the day before, the gates opened 2 hours before game time and it was a dash to get seats.  I was hoping to get a seat in right field, the top row, so I could lean back against the bars to relax… but it wasn't meant to be, and I ended up in the 2nd row down from the top again.  Great seats still though.
The game was a bummer for Cubs fans, as the Cardinals jumped out to a 4-0 lead in the 1st.  The home run that made it 4-0 was interesting.  Fans in Wrigley are famous for throwing back opposing players HR's.  If you don't do it right away they will urge you on by chanting "Throw It Back!!  Throw It Back!! Throw It Back!!"  This HR didn't get thrown back right away, but after some urging the fan finally tossed it back on to the field much to the delight of the crowd… maybe a little to much so.  Was a bit suprising to me how the Cubs fans could be so excited about someone throwing a baseball back onto the field, while down 4-0.  I guess maybe it comes from the years of losing and having to look for fun elsewhere.
A few innings into the game I overheard the guy behind me talking on his cell phone, rather loudly, and he mentioned that the Cubs had just traded Neifi Perez to the Tigers for a catcher.  Then other cell phones started ringing and when the news got around about the trade, people were VERY excited.  The guy in front of me asked who the Cubs got for him and went on to say that, "A bag of balls would be great!"
After the game I had to catch the bus back to the car lot.  This was easier said than done.  I came walking around the corner, looking for my bus, # 154, and there must have been about 1,000 people waiting for the same bus.  I quickly found out that there was about 5-6 buses with that # running in rotation and they were being loaded!  PHEW!
I finally got to my car, flipped the GPS on, and headed in the opposite direction of the bulk of the cars and on to down town to go up in the Sears Tower.  I got downtown rather easy, man I love that GPS system. I parked right acorss from the Sears Tower and headed in.  I wasnt really sure I could do this, Im not too keen on heights, but I also know that since it was in enclosed elevator, it would be easier for me.  So I put my head down, looked at my watch and waited for the doors to open again and when they did we were on the 103rd floor overlooking Chicago!
I had been trying to get up there for years, last time I planned on it was 9/11/01, and that didn't happen.  But it did today and I am glad I can finally say that I made it to the top of the Sears Tower.  Its views were amazing!  You could see everything from Wrigley Field, to Comisky Field, to Soldier Field, to the Field Museum, the water front, Navy Pier and everything else in between!
When I left there I was heading back to the hotel, but had to make a stop first…. I really wanted some good Chicago-Style pizza!  So I went by Gino's East downtown, and there was about 50 people waiting outside to get in, so that wasn't going to work.  So I decided to make a stop at the one in north Chicago on Lincoln Ave (again, I love that GPS cause I don't know that area of Chicago at all!).  I got my pie and was off to the hotel.  The pizza was good, but I wish I had a piece or two before it cooled down as my drive back to the hotel took me almost an hour.
P.S… John Fogerty led the 40,485 for the 7th inning stretch today.  That was cool!
Miles Today: 60
Total Miles: 2333
New States Today: 0
Total States: 7
License Plate Game:
Total Plates: 35
Games: 1 (Cardinal win 5-3)
Total Games: 5
Beers: 6
Total Beers: 16
Hot Dogs: 1
Total Hot Dogs: 6
| Team | 1 | 2 | 3 | 4 | 5 | 6 | 7 | 8 | 9 | R | H | E |
| --- | --- | --- | --- | --- | --- | --- | --- | --- | --- | --- | --- | --- |
| Cardinals (66-57) | 4 | 0 | 0 | 0 | 0 | 0 | 0 | 0 | 1 | 5 | 9 | 1 |
| Cubs (53-70) | 0 | 0 | 0 | 0 | 0 | 2 | 0 | 0 | 1 | 3 | 8 | 1 |
W: Carpenter, STL (12-6) L: Mateo, CHI (1-1) S: Isringhausen, STL (30)