2006 Road Trip – Day # 7 (Game # 6)
A day of rest was finally here.  There was still several things I could have done today in Chicago, but I opted for a day of rest and lunch with an ole friend of mine… especially since she said we should go to Portillo's!  So after sleeping in until about 9am, I got a few things done and headed to Arlington Heights to meet her for lunch.
She was running a little late, so I went and filled the car up with gas and put some more ice in the ice chest on my bottles of water to get ready for the drive to Detroit tomorrow morning. But she finally got there around 1:15pm or so and I ordered my usual, "Italian beef, hot peppers, moz cheese,  extra wet please" and let me tell you it was AMAZING!  Maybe its just been cause I havent had one in over 3 years, I dunno, but it was incredible!  We sat there talking about everything from Big Brother All-Stars to sports and life.  I had a good time talking to her and catching up on things.
I went straight from lunch to Wrigley, via the DeVry parking lot again cause it's that easy!  This time instead of getting in line for the bleachers on the right field side, I went to left field and the line was just as long, but it moved fast!  I got in, went straight to the restroom and then up the elevator and got a seat in left field, top row, against the bars.  Was GREAT!
I was so excited to see that I would be able to attend a night game at Wrigley cause there are so few of them and the game started off good, and was good, until the 4th inning when the Phillies jumped out to a 4-0 lead (sound familiar?) The Cubs did make a game of it but pulled up short, losing 6-5.  A few things happened during the game that are of note: In the bottom of the 8th inning, Rowand collided with his 2nd baseman and had to be helped off the field.  This collision was NASTY and it knocked Rowands glove off his hand and out into the field by about 30 feet.  I have since heard that he broke his ankle on that play and will probably miss the rest of the season, which wont be good for the Phillie and their run at the wildcard.  As Rowand left the field I heard the guy in front of me say, "I am not clapping cause he is walking off the field, I am clapping cause he didnt make the catch."  You see, Rowand used to play for the White Sox, so most everyone on the North Side hates him still. 🙂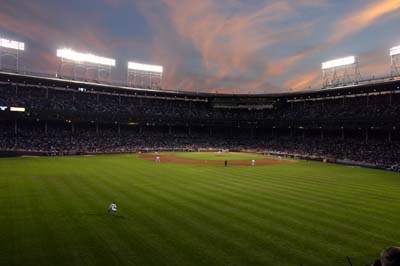 I also noticed that right after the 7th inning stretch each of the past 3 games (this one being led by Joe Mantenga) there is a serious mad dash for the beer stands.  Its almost comical watching the people take off to get more.  I also noticed the last few days that people like to wear flip-flops or sandles to the games.  I say this cause there are so many people wearing them, they stand out so much to me.  Just thought that was different.
The game was over and I was on my bus back to the car when the craving hit me and when you have the craving, only 1 thing will do and on my way to the hotel I made that stop and fed that craving at WHITE CASTLE!
Miles Today: 50
Total Miles: 2383
New States Today: 0
Total States: 7
License Plate Game:
Total Plates: 35
Games: 1 (Phillies win 6-5)
Total Games: 6
Beers: 2
Total Beers: 18
Hot Dogs: 0
Total Hot Dogs: 6
| Team | 1 | 2 | 3 | 4 | 5 | 6 | 7 | 8 | 9 | R | H | E |
| --- | --- | --- | --- | --- | --- | --- | --- | --- | --- | --- | --- | --- |
| Phillies (62-62) | 0 | 0 | 0 | 4 | 1 | 0 | 0 | 1 | 0 | 6 | 9 | 0 |
| Cubs (53-71) | 0 | 0 | 0 | 0 | 0 | 0 | 3 | 0 | 2 | 5 | 16 | 1 |
W: Lieber, PHI (6-9) L: Hill, CHI (3-6) S: Rhodes, PHI (3)