2006 Road Trip – Day # 9 (Game # 8)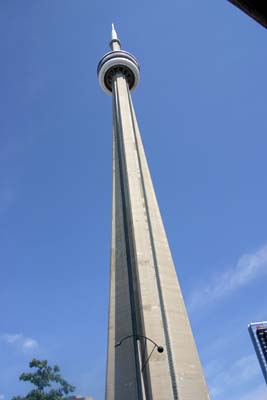 The drive to Toronto wasn't that bad really.  I was very tired though, so that was a bit of a struggle. Getting into Canada was much easier than I thought it would be really.  The lady at the border asked me what my home country was, I replied "US".  She then asked if I had any tobacco or alcohol in the car and I said "No".  Her final question asked me what I was doing in Canada and I said "Going to Toronto for a Blue Jays game".  She then handed me back my ID and waved me through.
I was about 16 miles from Toronto when I first spotted the CN Tower, you cant miss it.  If you have been reading my blogs leading up to this trip, you will recall that I wasn't sure if I would be able to go up in it or not, cause the top observation deck is 1465 feet up, which is almost 3x the height of the Space Needle in Seattle and going up it freaks me out!  Well, as soon as I got into town, I went straight there, parked the car and walked across and headed for it.  Man is that sucker tall!!  Without even thinking I went up and bought my ticket and headed inside.  Before I knew it I was in line to go up to the first lookout level, a mere 1300 feet up.  I kept in my head how I was able to go up the 1300 feet Sears Tower and if I didn't look out the glass front on the elevator, I could do this too and I did!  I was so happy for myself that as soon as I got up top, I called my wife to share the news with her.  She wasn't as excited as I was, but she did just get up… forgot about the 3 hour time difference… OOPS!
The view from up there is amazing, you can see clear into parts of  New York and all of Toronto.  I enjoyed looking down on the Rogers Centre (old Sky Dome), even if the roof was closed it was still cool to see.  I decided to get in line to go the rest of the way up to "Sky Pod" and see the view from the World's Highest Man Made Observation Deck in the world!  It was GREAT!  Everything looked about the same, just a bit smaller and you could see a bit further.  They say that on a  really clear day you can see Niagara Falls, which is 44 miles from the tower, as the crow flies.
I spent about 10 minutes up there before taking the elevator back down to the first lookout level again.  When you exit the elevator you go into a room that contains a glass floor so you can walk out of it and see the streets below you… NO THANKS!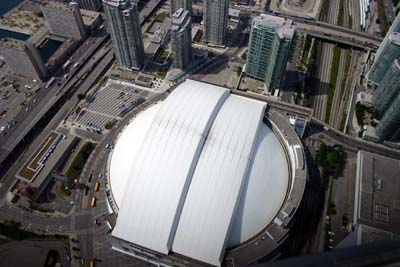 I kinda peeked down, but I wasnt going to walk on on that glass, I could see it cracking like the ice on a pond in late February, so NO!  I did take a couple pictures of the crazies that were out on it and I moved on to get in line to go to the bottom so I could go check into my hotel, rest a bit and go to the game.
I have read a lot about all the parks and everything I have read about Rogers Centre is true… especially the part about it being BIG!  This place is not only big, its  HUGE!   As I got inside and started my walk around the concourse I couldn't believe I was going to a baseball game: 1) In the "Sky Dome" 2) In Canada, a "foreign" country! and 3) Where they have the largest video screen I have ever seen!  It was unreal!  I walked around watching BP from different views, watching a bunch of people get balls and just taking it in from all over.  My seats were in left field but by gametime I had found me a folding chair around by home, on the 1st base side.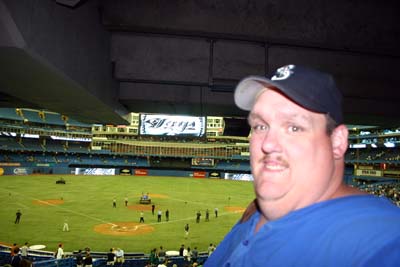 I went to get me a dog, chilli/cheese, and a beer and I noticed that the prices are all strange, like $6.44, or $3.08 and even with tax they don't equal something even.  Getting used to dealing with Canadian money wasn't all that difficult really.  I kinda like it cause they have $1 and $2 coins.
The game was a good one if you are from Oakland!  Esteban Loaiza pitched a complete game, 4 hit, 6-0 shut out. Frank Thomas went deep for the 475th of his career and Milton Bradley also had a jack!  Though I had read about it, it was strange not to lead off the 7th inning stretch with "Take Me Out To The Ballgame".  Instead they do something called "Go Jays Go" and have people out along the baselines actually showing you how to stretch.  Once that nonesense is over, its time to sing the classic… and they rush right through it as if they really couldn't care less.  Was good to see Lyle Overbay play, as he is from Centrailia, WA and whenever he came to bat, they had Pearl Jam playing.
After the game I drove back to my hotel straight up through Toronto and got to see some of its nightlife.  Wasn't too bad.  I had been told the part of town I am staying in is pretty safe, and it seemed so.  Not too shabby, was great to finally get to see Toronto!
Miles Today: 264
Total Miles: 2979
New States Today: 0 – 1 new country – Canada
Total Countries: 2 (USA and Canada)
Total States: 9
License Plate Game:
Total Plates: 35
Games: 1 (A's won 6-0)
Total Games: 8
Beers: 2
Total Beers: 22
Hot Dogs: 1
Total Hot Dogs: 7
| Team | 1 | 2 | 3 | 4 | 5 | 6 | 7 | 8 | 9 | R | H | E |
| --- | --- | --- | --- | --- | --- | --- | --- | --- | --- | --- | --- | --- |
| Athletics (72-55) | 3 | 2 | 0 | 0 | 1 | 0 | 0 | 0 | 0 | 6 | 10 | 0 |
| Blue Jays (67-60) | 0 | 0 | 0 | 0 | 0 | 0 | 0 | 0 | 0 | 0 | 4 | 0 |
W: Loaiza, OAK (7-7) L: Chacin, TOR (6-3)