2006 Road Trip – Day # 10 (Game # 9)
Since I wanted to be in Buffalo, NY around noon, I knew that I could sleep in a bit, so I did.  I finally hit the road about 9am for my short drive to Niagara Falls.  I had been hearing how Niagara is only 44 miles away, so it wouldn't be that bad of a drive.  As I mentioned yesterday, those 44 miles are "As the crow flies" cause it ended up being just over 80 miles, you have to drive around Lake Ontario to get there,  and I was now off schedule for the first time on this trip.
I learned 2 big lessons while in Niagara Falls, the first one was dont park and get out of your car there by the falls if you have to pee, cause if you thought the mention of water or the sound of a stream made you have to go, I can tell you first hand that the sound of Niagara will send you over the edge!  Even though I had to go badly now, I still took the time to take some pictures from the vantage point I had on my walk to the "Maid Of Mist" marketplace, and my first stop was the "Washroom" 🙂
Once that was taken care of I went to get my ticket and stand in line for my chance to go out and see the falls up close.  It seems like I have been doing that alot on this trip, either walking great distances, rushing from one place to another, or standing in long lines for long periods of time.  This combined them all into one.  We had to go down several sets of strairs, walk around these ramps, ride an elevator down a couple levels, and then walk a ways to get in line and stand there a while.  But when we got there, we were right next to the water awaiting the next boat.  When it came, we loaded up and set out onto the Niagara river for our journey.  I really dont recall how long the boat ride was, cause I was too busy taking it all in.  If you dont know what the "Maid of The Mist" is its a boat ride that takes you right out to the base of the Horseshoe Falls and you are so close that you get really wet with the spray (mist) coming up off the falls.  They do give you disposable ponchos to wear if you wanted to.  Another way to realize what this is is to think about the Jim Carrey movie, "Bruce Almighty" and the scene where he found out that he didnt get the anchor job towards the begining of the movie… he was on a "Maid Of The Mist" boat.  So anyways, they take you past the first 2 falls, the American Falls and Bridal Falls and right to the base of the Horseshoe Falls and the water gets really choppy and its hard to walk around the boat, but I did it anyway to see things from all over.  The truth is, when your right there, its hard to really make out anything descriptly, because the mist kida makes it a white-out.  But the whole experience is a great one and I would suggest it to anyone!
I learned lesson # 2 as I was leaving Niagara.  That lesson is  to get gas and make sure you have plenty before you go to cross the Rainbow Bridge back into the USA.  I didnt have alot, I was about 1/8 of a tank, or less… but I knew that I only had about 1/2 mile to go until a station, so I opted to go ahead and cross the bridge and fill up on the US side.  This was almost a big mistake!  On my car there is a digital gauge that will show you how many miles you have "Until Empty".  I sat there in line so long that I watched the gauage drop, drop, drop and drop until just before I finally got up to the inspection point, it litterally read "0 Miles Until Empty"!  I had an option of 3 lanes, and I chose the smallest one and it turned out to be the WRONG choice.  I watched the lanes on both sides of me whiz by, they were getting about 3 cars through inspection for every 1 in my lane.  This was terribly frustrating. Finally I get up there and I am watching the person in front of me as they go through and the guy working the booth has them open their trunk and he starts to look through it, he even unzipped a bag to look in!!  I thought to myself, and probably said outloud, "No wonder its taking so long!"  I mean, I understand that we have to be careful at our borders and all, but did this guy really think this lady could be a terrorist or something?  Anyways, when it was my turn I handed him my ID and asked if he wanted to see my birth certificate, he said yes and asked me what I was doing in Canada and I told him I went to see a Blue Jays game.  He asked what Iw as doing today and I said, "Well, if I can get gas before I completely run out, I am off to Buffalo and then down to Pittsburgh for a Pirates game."  He told me there was a station about 2 blocks up the road. I already knew that as I mapped it, 481 yards to be exact :)  He then handed me back my stuff and away I went.  I had to be the fastest person through there in the whole time I sat there!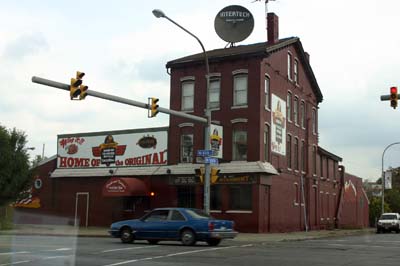 I got into Buffalo much later than I wanted to, but there was no debate if I was going to stop at the Anchor Bar or not.  For those of you that dont know, the Anchor Bar is where "Buffalo Wings" originated.  I can tell you this, after ordering a "double" (20 wings), they are without a doubt the best wings I have EVER had!  If you think you have had great wings, no, no you havent… unless you have been to the Anchor Bar!  I bellied up to the bar, had my wings and a Labatts to wash them down.  I intentionally ordered more than I could eat so I could take some with me and they made a great dinner as well 🙂
I got to PNC Park in Pittsburgh about 6pm, which wasnt that bad, just meant I couldnt check into my hotel before the game.  I met up with my friend Christie and we went in to get a bite to eat.  I had been hearing about Primanti Brothers sandwiches, so I wanted to try one of those.  Sadly, we couldnt find their booth at PNC, so I settled for a lame footlong dog, with grilled onions.
The game was good, and PNC park is a beauty.  I still dont like how they designed the left  field area, how its hard to walk around the hard cause its not on the same level. I have no clue why this did this, but they did, so it still dont set right with me.  T
he Pirates did win 5-3, after being down early.  But the real excitment came 30 minutes after the game when they did "Sky Blast"!  Sky Blast is a fireworks show.  This one was a bit different though cause they had a live band playing as well, "Me First and the gimme gimme's".  I had never heard of these guys, but Christie has and was kinda excited.  They werent all that bad, different for sure, but they did their versions of classics like "Sweet Caroline" and "Stairway To Heavan".  They would play inbetween big sets of fireworks.  The whole show lasted about 40 minutes or so and while I thought it was great, Christie told me "I think that was a better show than the one on the 4th of July."  If you have read my blog before you will know that I mentioned how Pittsburgh is famous for its fireworks shows, so if this one was better, I must have seen a great show and it was quite good.
As we were leaving, Christie and a couple friends tried to talk me into going to Primanti Brothers with them… this was VERY tempting!  I thought about it quite a while but decided that I best get some sleep cause I have a 600 mile drive tomorrow.  So I headed to my hotel, checked in and called it a night.
Miles Today: 326
Total Miles: 3305
New States Today: 2 – New York and Pennsylvannia
Total Countries: 2 (USA and Canada)
Total States: 11
License Plate Game: RI, MA, VI, WV, NH
Total Plates: 40
Games: 1 (Pirates won 5-3)
Total Games: 9
Beers: 1
Total Beers: 23
Hot Dogs: 1
Total Hot Dogs: 8
| Team | 1 | 2 | 3 | 4 | 5 | 6 | 7 | 8 | 9 | R | H | E |
| --- | --- | --- | --- | --- | --- | --- | --- | --- | --- | --- | --- | --- |
| Astros (60-68) | 0 | 0 | 3 | 0 | 0 | 0 | 0 | 0 | 0 | 3 | 7 | 0 |
| Pirates (50-78) | 0 | 0 | 0 | 1 | 0 | 4 | 0 | 0 | X | 5 | 11 | 0 |
W: Maholm, PIT (6-10) L: Rodriguez, HOU (9-8) S: Gonzalez (24)