2006 Road Trip – Day # 15 (Game # 12)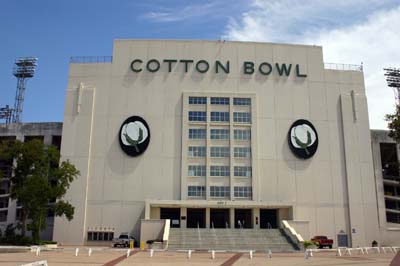 For the first time on my entire trip,  today I had someone traveling with me.  My brother Judd was going to go with me to Dallas to see the town and catch a Rangers game in Arlington.
Judd took the keys and we hit the road right at 6am.  The drive down to Dallas wasnt that bad, though we did take a wrong turn at one point that put us about 30 miles out of our way.  We were ok though, cause I fired up the GPS and it showed us where we had to go to get back on track.  Other than that, it was a smooth drive.
We got to the Big D just before noon and had to findd a restroom before we could go on.  Once the important stuff was taken care of, we headed over to the Cotton Bowl to check it out.  We walked around a while, it was kinda toasty out today.  We got our pictures and then headed off to downtown to the Texas Book Depository.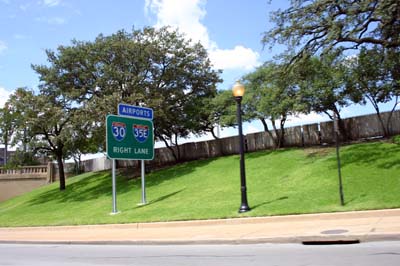 For those of you who dont know what the Book Depository is, its the building in which Lee Harvey Oswald shot  President John F. Kennedy.  It is now a museum called "The 6th Floor" named after the floor where the shots rang out.  When you go on the tour, you have 2 options: 1) With audio or 2) without.  The last time I was there, in July 2000, I did the audio tour so we did it today as well.  With the audio tour you put on a set of headphones and walk around the exhibit and it tells you all sorts of things about JFK, the conspiracy, actual facts about the area and so on.  Its very interesting and something I suggest to anyone if your in the Dallas area.
After the tour we went to check into our hotel, it was very nice.  Then we headed for lunch.  I was going to suprise my brother and take him to a place he has been wanting to go for years, Joes Crab Shack.  We both had the Dungeness Crab and shrip and it was incredible!  Was very glad that we went to do that cause Judd loved it!   After lunch we headed to the ball park.
Having been to 2 games in Arlington, I was looking forward to seeing it again.  Its a very beautiful park, made of red brick and green steel.  This is where I started being freaked to right on escalators, having been on one there that never seemed to end and just as we entered the park, there it was starring at me taunting me to ride it… NO WAY!  No, seriously, I didnt need to cause our seats were in the right/center bleachers. We walked around a while looking at the field taking pictures before heading towards our seats. We stood there watching some of the Baltimore Orioles pepper the seats with balls and I said to Judd, "We should have got here earlier and seen if we could have got on, since there isnt that many people."  We stood there a while watching BP and finally took our seats to watch the rest.  Our seats were right behind the Rangers bullpen, and since we were at the catcher end of the pen, there was a screen up in front of us.. just incase there was an bad throw so it wouldnt hit us.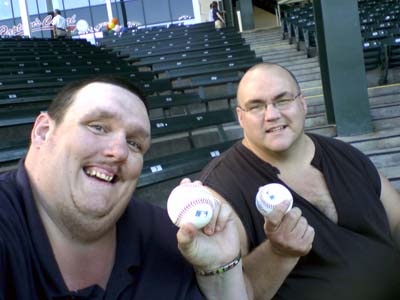 Well, we sat there watching BP and then this ball was hit right at us, but as I said, "Its gonna drop in the pen" so I thought nothing of it, grabbed my phone to make a call and as it was dialing the ball bounced in the pen on the astroturf and I watched it come up over the screen and I jumped up to try and get it.  I was reaching as far as I could to get it but I missed it and it hit right behind me.  I laid out over the bleacher, reached as far as I could, and it was just out of my reach!  I moved a slight bit and was able to bring in it, barely.  I JUST GOT MY SECOND BP BALL EVER!!  I was so excited!  It was as if I was 12 again.  Its silly cause you can buy these balls at any sporting goods place for $11.99, but its different.  These were touched and hit by real major leaguers!  I forgot I was on the phone, so I told Thacker "I know you need to call me back, I dont care, I just got a ball!!"  I then sat back down and called my mom to tell her and as I was talking to her, I saw another headed our way so I told Judd.  He finally saw it as it landed in the bullpen and bounced over the screen and he trapped it against the screen… JUDD GOT A BALL!  Can you believe that we both got a ball, the same night, about 3 minutes and 4 feet apart!  What are the odds!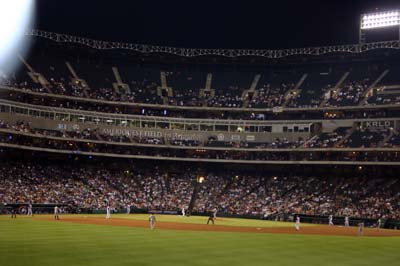 The game was good, we got to see Kevin Millwood warming up in the bullpen and then pitch a complete game, 9-4, win.  Mark Texeira hit a HR and nearly got another later.  Was really fun to be there with my brother and see him enjoying the game and the park as well.
After the game we headed back to the hotel and it didnt take long before we were down for some much needed sleep, cause it was a long day.
Miles Today: 397
Total Miles: 4727
New States Today: 1 – Texas
Total Countries: 2 – USA & Canada
Total States: 17
License Plate Game: 1 – North Carolina
Total Plates: 41
Games: 1 (Rangers Win 9-5)
Total Games: 12
Beers: 1
Total Beers: 33
Hot Dogs: 0
Total Hot Dogs: 13
| Team | 1 | 2 | 3 | 4 | 5 | 6 | 7 | 8 | 9 | R | H | E |
| --- | --- | --- | --- | --- | --- | --- | --- | --- | --- | --- | --- | --- |
| Orioles (59-72) | 0 | 2 | 1 | 0 | 0 | 0 | 0 | 0 | 1 | 4 | 8 | 1 |
| Rangers (68-65) | 0 | 3 | 0 | 0 | 1 | 0 | 5 | 0 | X | 9 | 10 | 1 |
W: Millwood, TEX (13-9) L: Lopez, BAL (9-14)