OPENING DAY! Mariners vs A's…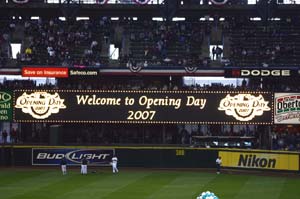 Opening Day is the only day that I ask off from work.  Last year there was a big deal made about me asking for it off, cause someone else wanted it off as well.  However, when she handed in her big list of days off, it wasnt on there, so when I asked for it, I got it… though she just assumed it was her day off.  Was kinda funny really 🙂  So this year I was told in early January I didnt even have to ask for it off, I would have Super Bowl Sunday as well as Opening Day off… so that rocked!
Opening Day for a baseball fan is a spritual event.  It's the renewing of hopes and dreams, even if you honestly deep down inside know that your team hasn't got a chance to make the post season, let alone win the World Series (read: Kansas City, Tampa Bay and so on…).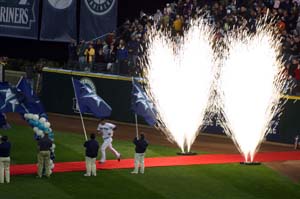 For a true blue baseball fan, Opening Day means being at the stadium when your team is fresh, before you have the chance to be called "Losers", when your record is still clean at 0-0.  For those teams that get a win on Opening Day, it's magical!  For us in Seattle, Opening Day means facing a team that we were 1-17 against in 2006 and it also means early April rain!  Atleast we were able to have the roof closed so we could play on. (They later opened it for the start of the game, before closing it again as the rain started to fall…)
The Mariners opened with Oakland this year, who, like I said earlier, beat us 17 outta 18 last year.  It's not a promising way to start 2007, but this is Opening Day.  They havent beat us yet, we're still 0-0, and we have a fighting chance! Our best pitcher, our ACE, our #1 – 'King' Felix Hernandez – would lead us to victory if we cheer hard enough!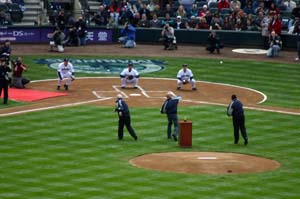 The celebration of Opening Day is always fun.  It's when you get to see your team announced player by player as they run in from beyond the outfield wall amid fireworks & flashbulbs.  It's also a day where feats of the past year are celebrated.  It is always fun to be there when a member of your team gets recognized by Major League Baseball and this year it was once again Ichiro as he picked up his 6th straight Gold Glove.  As an added treat for us long time Mariner fans, we got to see 3 of our greats throw out the ceremonial first pitch.  This year it was Dave Neihaus, Jay "Bone" Buhner and Alvin "Mr. Mariner" Davis.
The game was great, a pitchers duel to begin with as Felix battled Haren.  The score was tied at 0-0 until the bottom of the 6th when Ichiro and Beltre both singled, followed by an error by Haren, lead to bases loaded for Raul Ibanez.
Raul, who was the first player to hit a grandslam in Safeco Field history, almost did it again, but it was caught just short of the wall in Right, but scored Ichiro easily, 1-0 M's.  Richie Sexson was up next and as he has done atleast once every opening day since becoming a Mariner, he jacked one! A 3 run bomb that put us up 4-0, and we didnt look back!
Opening Day is always magical, and when you can get a victory over a team that has beat the daylights out of you in the past, a shutout no less, its even that much more magical!
Here's to an AMAZING season… GO M's!!
| Team | 1 | 2 | 3 | 4 | 5 | 6 | 7 | 8 | 9 | R | H | E |
| --- | --- | --- | --- | --- | --- | --- | --- | --- | --- | --- | --- | --- |
| Athletics (0-1) | 0 | 0 | 0 | 0 | 0 | 0 | 0 | 0 | 0 | 0 | 4 | 2 |
| Mariners (1-0) | 0 | 0 | 0 | 0 | 0 | 4 | 0 | 0 | X | 4 | 4 | 1 |
W: Hernandez, SEA (1-0) L: Haren, OAK (0-1)