So Interleague play has begun… and the first series of such for the Mariners brings their "Rivals" the San Diego Padres to Safeco for a 3 game set this weekend.  I don't get how they can be our "Rivals" because there isnt any bad blood between the two teams or anything and the only real connection is that we both share the same spring training facility down in Peoria, AZ.  But no matter how you look at it, that's how it's billed.
I decided to go up to Seattle early today to do something I don't usually do and haven't done since a M's vs Cubs game in June 2002.  I was hoping to get an autograpgh from Mike Cameron on my ticket stub and a couple pictures from the night that he hit his 4 HR's, May 2, 2002.  I got lucky and just happen to be at that game on the south side of Chicago at Comiskey Field.  It was my first game at Comiskey, and needless to say, a memorable one.  So I got to Safeco about 3:30pm, and there was already a pretty decent line to get in… it was Felix Hernandez Bobblehead night…so I went down to the team store to look around for a bit and then about 4:10pm, I got in line.
The gates at Safeco usually open 2 hours before gametime, which would be 5:05pm.  For some reason, they opened then at 4:45pm, I think it was because the skies started looking nasty and I think it was about to rain pretty good.  Whatever the reason,  I was glad to be on my way.  I headed up to the main concourse and took a look to see where I wanted to go.  I knew I wanted to be down the 3rd base line, by the Padres dugout, but did I want to be above the dugout, or just to the side of it.  I made my decision, and I was off… to just to the side of the dugout and thats where I set up camp in the first row.  I could go on for hours about things that happened when I was there, but let me just hit the basics… there was a really cool guy next to me, Doug,  whom I talked baseball and stadiums with for most of the time we were there, the guy on the other side of me kinda freaked me out cause he had this bag that was filled with files and in each of them were tons of pictures of Padres players,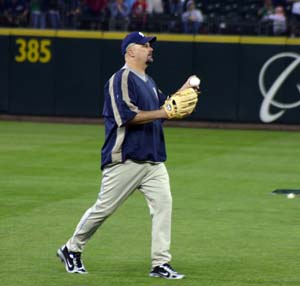 most of them was of them and him, and everytime one would be headed even remotely close to us, he would go through the files, get a picture and yell out the guys name asking for an autograph.  Bottom line, he was shut out, then again, so were the rest of us.  The closest we came was when sure fire Hall Of Famer Greg Maddux was about 3-4 feet from me signing.  Ironically enough, he stopped just before the guy to my right, I am not sure that was only a coincidence. I did get to see David Wells as he walked by us, as the rest of the Padres did, both into the field and back to the dug out.  I did yell out "BOOOOMMMMEEERRRR" a couple times.. dunno why, cause I dont usually do that 🙂  It was fun being down there and I didn't walk away empty handed, as I got me a ball!  I stood there and saw this ball being rolled towards us from around 2nd base.  I dunno if it was thrown in from further out, or what, but it was on a line coming straight for me.  Since I dont usually spend time down there like that, it didnt even hit me to try and grab it until it was right up next to us and both guys on either side of me dove for it…. and *I* got it!  The crazy thing is, getting a ball makes you feel like a kid again and out of the HUNDREDS of games I have been to in Seattle, between the Kingdome and Safeco, this was my 1st ball ever!
So after the Padres cleared the field and the grounds crew took over, I hung out talking to Doug for a bit more before heading up to try and hawk me a different seat.  I just bought a $7 seat in the bleachers, but was hoping to get something closer to homeplate, so I went looking… and there it was. 
I ended up with a seat, row 41 (which is the concourse level, so no stairs to go up or down) in section 127, just off to the first base side of home.
The game started out good, as it was 0-0 until the bottom of the 3rd when Ichiro got a single, stole 2nd and then the very next pitch he stole 3rd! That gave him 3 stolen bases for the night!  Jose Vidro singled him in on a broken bat blooper that barely got over Khalil Green's glove and into shallow left-center, 1-0 Mariners.  From there it all went down hill… top of the 4th the Padres put 3 on the board, thanks to a single and stolen base by Cameron. They added 1 more in the 7th before Greene and Cameron hit back-to-back doubles to lead off the 8th, followed by a single by Josh Bard, and a monster 3-run HR by Russel Branyan!  I haven't seen a shot fly that fast and that far in a long, long time!  They called it 422 feet, but thats only because it hit the back wall and was stopped!
So to sum it up, the Padres whooped us, 8-1! A few other notes of interest from today, or maybe not, former Mariner Julio Cruz threw out the ceremonial first pitch, the roof was closed for the entire game and with the Yankees loss, they are now 10 games behind the Red Sox in the AL East! 🙂
Next Game: Mariners Vs Padres, 5/19/2007 – Greg Maddux on the hill for the Padres! 🙂