Mariners vs Padres – May 19, 2007
I left home a little later than I wanted to, but as I crested "the hill" and could see that the roof at Safeco Field was open, all was good.  I took my usual exit, went up 4th to Edgar Martinez Drive and as I got to 1st, which is the corner where the home plate entry is, there was hardly anyone there.. especially compared to Friday night. So this was good.
I got parked and got in line about 9 people back from the gate.  I happened to look up and could see the roof closing just before it started to rain.  After what seemed like a long 50 minute wait, "Centerfield" by John Fogerty came on the PA system, which signals the gates are about to open.  As it happened, the line I was in opened early and as I walked in and looked towards the rest of the gates, they were all closed, it looked weird, almost like I shouldn't have been there… but it didn't stop me.  I made my way up to the main concourse and headed to the 3rd base line to take my spot above the Padres dug out.
As I got there I could see Mike Cameron signing for a few people, all who were in front of me in line.  As I did on Friday, I brought with me my ticket stub from May 2, 2002, and a couple pictures I took that night at the game.  That game being of course the night that Cammy became only the 13th player in MLB history to hit 4 HR's in a single game.  It was also the same night that Cammy & Bret Boone became the 1st, and still only,  set of teammates to ever hit back-2-back HR's, twice in a single inning. So I got these things out and when the time was right I said "Hey Cammy!" and I held them up. "Could you sign these for me, it's a ticket stub from the night you hit your 4 homers, and a couple pictures from that night also?" He said "Really?" and  waved me to toss them to him so I did.  As he first looked over them he said "That's so cool" and then after he stood there looking at them for what seemed to be 2 minutes or so, he signed the ticket, and showed a couple other people the pictures.  He even pointed to the scoreboard picture with the sharpie and you can see where he accidently hit the picture, cause there is a mark. 
He then turned and asked, "Do you want me to sign the pictures too?"  I said if you would please and told him that I took those that night, that the one with him swinging was actually when he hit the 4th one and how it was my first game at Comiskey and man did I get lucky.  He went to toss them back up to me with a big smile on his face and said "Man, that's really cool, thanks!" before he disappeared into the dug out as I was saying "Thanks" to him!.  To me that was just awesome!  That signed ticket stub is a real piece of MLB History, something to hold on to for a long, long time 🙂
The Padres BP session ended 15 mintes after the gates opened, which is very unusual.  The reason was that they were doing a "Walk Around The Park" day for all the Little Leaguers as part of the Little League weekend.  So while that was cool for the little guys, kinda stunk not getting to watch BP for the usually 90 minutes.  Since I was flying high after getting to talk to Cammy and have him sign those for me, I headed to the main concourse and started to look around to waste the time before the game started.  I got something to drink, found me a seat down the 1st baseline, and watched the little guys walking around the warning track and noticed how it looked nice outside. The next thing I noticed was the roof opening, which always makes the home crowd go nutts!  Shortly before game time, it started pouring down rain!  The grounds crew scrambled to get the tarp on the pitchers mound and put towels into the batters boxes.  People were running up the aisles to get under cover and those that stayed, several of them opened umbrellas.  I couldn't help but laugh… and take pictures 🙂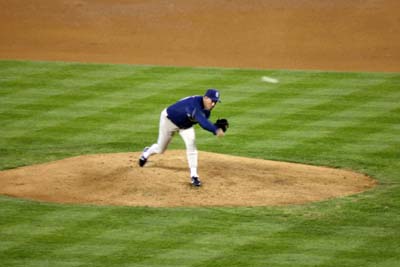 One of the big draws, if not the biggest, for this game was to be able to see a 300+ game winner in Greg Maddux pitch for the Padres.  I have followed his career since his early days in Atlanta and this was the first time I would get to see him pitch.  As I realized later, he would be the 4th 300+ winner that I had seen pitch.  I got to add his name to Gaylord Perry, Nolan Ryan & Roger Clemens.  Well, he didnt last long.  The Mariners jumped on Maddux for 2 in the 1st on a 2-run HR by Jose Guillen, 3 more in the 2nd with singles from Jason Ellison, Ichiro, Jose Vidro and a 2-run double by Guillen.  They tacked on 1 more in the 3rd on a 422 FT blast by Adrian Beltre and another run in the 4th after Ichiro singled, stole 2nd, stole 3rd and scored on a Ben Broussard single.  That made it 7-0 on 12 hits! Maddux only went 3 2/3 of an inning!  Not at all what I was expecting to see from him.
The rest of the game went fairly smooth, except for seeing Jason Davis, a new pitcher for the Mariners (who we picked up in a deal with the Indians) come in and not be able to find the strike zone! After chasing Maddux, the Mariners only managed 2 more hits and didnt score again.
Though I bought a $7 bleacher seat, just like on Friday night, I found myself a seat in the $55 section.  I actually spent the first 2 innings in section 138 before moving over to section 134 for the rest of the game.
If you have ever been to a game in Seattle, especially if you have been to many of them (be that Mariners or Seahawks) you should know who I am talking about here when I mention "The Peanut Guy".  This guy has been tossing bags of peanuts to happy customers for as long as I can remember.  Last night I got the chance to talk to him for a few moments and I asked him, "So, I gotta know, just how long have you been doing this?"  He just smiled that smile we are all so used to and told me, "This is my 32nd season."  With a look of suprise on my face I told him I knew it had been a long time, cause I remembered him from the Kingdome back when I was a little kid.  How as a kid, it was especially cool to get to catch a bag of peanuts that he would toss us from behind his back.  He told me "I was young back then…or maybe I am just in denial now." 🙂 I am 34 right now.  My first Mariners game was in 1977 at the Kingdome, which means that he has been selling peanuts to crowds in Seattle for 2 years longer than I have been going to games, or 2 years less than the length of time that I have been alive!  Either way it was very cool to get to chat with a Seattle icon, if for only a few moments.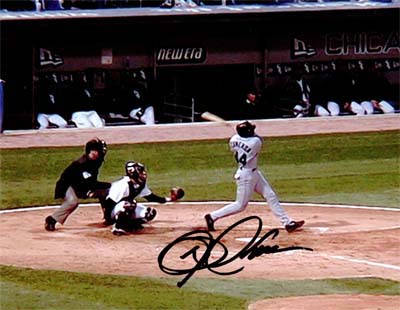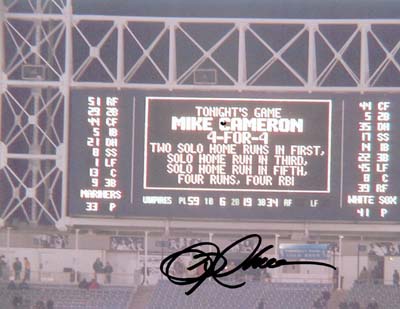 | Team | 1 | 2 | 3 | 4 | 5 | 6 | 7 | 8 | 9 | R | H | E |
| --- | --- | --- | --- | --- | --- | --- | --- | --- | --- | --- | --- | --- |
| Padres (23-20) | 0 | 1 | 0 | 0 | 1 | 1 | 1 | 0 | 0 | 4 | 9 | 1 |
| Mariners (19-19) | 2 | 3 | 1 | 1 | 0 | 0 | 0 | 0 | 0 | 7 | 14 | 0 |
W: Rameriez, SEA (4-2) L: Maddux, SD (3-3) S: Putz, SEA (10)