Expos vs Brewers – August 10, 2002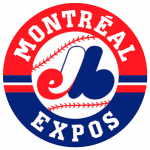 We woke up this morning in Dubuque, IA, spent a few more hours at the "Field of Dreams" in Dyersville before heading to Milwaukee, with a quick stop in Lake Geneva, WI to play a few classic arcade games at my favorite arcade there. Of course as we crossed the Wisconsin state line we stopped for pictures and to yell "Hola Wisconsin!!" 🙂
We rolled into town thinking we still had a few hours before game time, as we thought the game started at 7:10pm not 6:10pm as the tickets said (it actually wasn't until we were in the park and heard the National Anthem being sung that I looked at the ticket a bit closer), so we took our time looking around town before we made our way to Miller Park. I had just been to Miller Park back in May for 2 games, so I enjoyed getting to show Bob around the park. When I was last there I saw a vendor that engraved bats for you with basically whatever on it you wanted. I had told Bob about this place, "Sticks By Stan", so we decided to go check it out and get a bat made. On mine I put my name, where we are and I opted for putting my signature on the bat. The worst part about that is that I had to sign with a sharpie, so it wasn't the best signature, but it was still kinda cool. Bob had one made with his sons name on it, that was cool.
We took the bats out to the car so we didn't have to worry about them during the game, grabbed a couple brats, and made our way to our seats. As we did in Chicago, we grabbed seats closer to the concourse that were open, instead of the our 1st row seats (ironically I have had a seat in the same section and same row for all 3 games I have seen at Miller Park now). The game was ok, always great to see a game live though. Was my first time seeing the Montreal Expos play. In the 2nd inning as Vladimir Guerrero came up I was telling Bob about him and his monster home runs and how just a few weeks earlier at the All-Star game festivities, here at Miller Park, Sammy Sosa was hitting balls out of the stadium just over to our left during the Home Run Derby.  I barely got it said and Vladdy jacked a shot that had it not hit a cross bar might have left the stadium!!  It was without a doubt the biggest home run I have ever seen in person!  The Sausage Races are always run to watch, quite different than what goes on at any other ballpark.  The rest of the game was, well, dull.  Then again we were seeing the Expos vs the Brewers, what did we expect, right?  I can say that it was just great being there with my best friend and getting to share this experience with him.
After the game we fought the traffic to get outta there and hit the road for Chicago.  This was the last night of our trip and since we were flying out of O'Hare kinda early, we decided to stay that night in Chicago at the same Motel 6 (Rolling Meadows) I had stayed back in May.  For dinner we stopped at Portillo's for an Italian Beef sandwich… a must on any trip through the Chicagoland area, especially if I can stop at the one in Arlington Heights.
| Team | 1 | 2 | 3 | 4 | 5 | 6 | 7 | 8 | 9 | R | H | E |
| --- | --- | --- | --- | --- | --- | --- | --- | --- | --- | --- | --- | --- |
| Expos (58-58) | 0 | 1 | 0 | 0 | 0 | 1 | 0 | 0 | 0 | 2 | 10 | 0 |
| Brewers (41-75) | 3 | 0 | 0 | 0 | 1 | 0 | 0 | 1 | X | 5 | 12 | 0 |
W: Cabrera, MIL (5-8) L: Vazquez, MTL (8-8) S: DeJean, MIL (19)