Say It Ain't So Manny…
From ESPN:
Major League Baseball is expected to announce Thursday that Los Angeles Dodgers outfielder Manny Ramirez has tested positive for performance-enhancing drugs and will be suspended for 50 games, The Los Angeles Times is reporting.
Ramirez's test result and suspension are expected to be announced Thursday, The Times said.
Triple-A outfielder Xavier Paul has been told by the Dodgers that he will be promoted later today, according to The Times.
In his first full season as a Dodger, Ramirez is batting .348 with six home runs and 20 RBIs. Los Angeles has bolted to a 21-8 record — best in the majors — and a 13-0 record at home that set the modern major league record for home winning streak to start a season.
From The LA Times:
Manny Ramirez will be suspended 50 games for positive drug test
The suspension, which is expected to begin with tonight's game, makes him the biggest star penalized under baseball's testing program that started in 2003.
By Bill Shaikin and Dylan Hernandez Times Staff Writers
8:35 AM PDT, May 7, 2009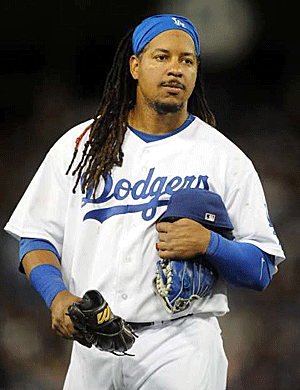 Manny Ramirez has tested positive for performance-enhancing drugs and will be suspended 50 games starting today, The Times has learned.
The test result and suspension is expected to be announced later today.
The suspension will cost Ramirez $7.7 million, or roughly 31% of his $25-million salary. Players in violation of baseball's drug policy are not paid during suspensions.
Ramirez is expected to attribute the test results to medication received from a doctor for a personal medical issue, according to a source familiar with matter but not authorized to speak publicly.
The Dodgers informed triple-A outfielder Xavier Paul this morning that he was being promoted to Los Angeles.
With the suspension taking effect with tonight's game against the Washington Nationals at Dodger Stadium, Ramirez will not be eligible to return to the team until July 3.
Ramirez would become the biggest star suspended under an oft-criticized major league testing program that started in 2003. He had been a model citizen since arriving in Los Angeles last August, following a stormy tenure with the Boston Red Sox.
This is the second drug scandal to rock baseball within four months. In a year in which baseball officials hoped their greatest concern would be the slumping economy, the two highest-paid players in the game have been revealed to have failed a drug test.
Alex Rodriguez, the game's highest-paid player, acknowledged during a February news conference that he used steroids from 2001 to 2003. The admission followed a Sports Illustrated report that he failed a drug test in 2003, when players were not subject to suspension.
Ramirez did not appear in the clubhouse after the Dodgers' 10-3 victory over the Washington Nationals Wednesday night. After the game, Dodgers General Manager Ned Colletti and Manager Joe Torre said they were unaware of any failed test or pending suspension.
As unconfirmed reports circulated around Dodger Stadium on Wednesday night, Scott Boras, the agent for Ramirez, declined to comment.
Major League Baseball spokesman Pat Courtney said he could not comment, citing the limitations stipulated in baseball's drug policy.
Rob Manfred, baseball's top labor lawyer, and Michael Weiner, general counsel for the players' union, did not return multiple messages.
The loss of Ramirez would leave a gaping hole in the Dodgers' lineup. Juan Pierre, the likely replacement for Ramirez in left field, has batted ninth in two of his five starts this season.
Ramirez doubled and drove in two runs on Wednesday, as the Dodgers set a major league record with their 13th consecutive home victory at the start of the season. The Dodgers have the best record in the major leagues, at 21-8, and the biggest division lead in the majors, at 6 1/2 games in the National League West.
Ramirez leads the Dodgers in batting average (.348), on-base percentage (.492) and slugging percentage (.641), and he is tied for the team lead in home runs with six.
He signed a two-year, $45-million contract with the Dodgers in March, with the first year guaranteed at $25 million and the second year at his option at $20 million.
In an appearance at USC last month, Jose Canseco said Ramirez's name "is most likely, 90%" on a list of 104 players that failed a drug test in 2003. The players were promised anonymity for taking tests in 2003; Rodriguez is the only player that has been identified among that group.
Ramirez laughed when Times columnist Kurt Streeter relayed Canseco's allegation to him.
"I got no comment, nothing to say about that," Ramirez told Streeter. "What can I say? I don't even know the guy."